10.01.2020 NEW PRODUCT: VIA AMOS-825 Industrie-/CarPC
Enhance commercial fleet safety and efficiency with the AMOS-825 system Powered by a 1.0GHz NXP i.MX 6Quad Cortex-A9 quad-core SoC, this fanless small form factor system has been specifically designed for demanding compute-intensive fleet management, navigation and infotainment applications. Featuring a 1.0GHz NXP i.MX 6Quad ARM Cortex-A9 quad-core SoC, the VIA AMOS-825 delivers a highly-capable and power-efficient system for compute- and multimedia-intensive in-vehicle infotainment and navigation applications.

With its 3G networking support (provided separately through an optional expansion card) and its rich connectivity, the AMOS-825 can serve as a powerful data collection and control center on the go within vehicles. GPS, Wi-Fi, Ethernet, USB, COM, and HDMI ports make connecting devices very easy. A completely fanless system with a ruggedized design and automotive compatible power options make it into your one-stop solution for in-vehicle applications.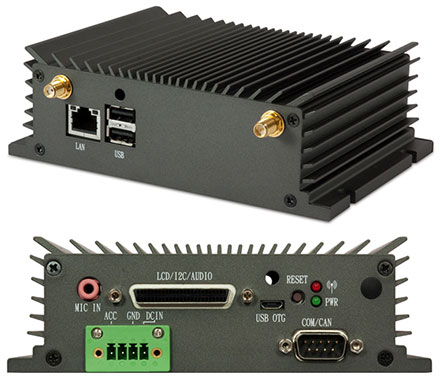 VIA AMOS-825 Industrial-PC/CarPC (1.0GHz i.MX 6Quad Cortex-A9, 9-36VDC, 1GB RAM/16GB eMMC) [FANLESS]

10.01.2020 NEW PRODUCT: Jetway CarPC HBFEF752(W)-7100-B
Jetway HBFEF752-7100-B (Intel Kabylake)

Intel® Kabylake-U Series SoC Processor
Support ITPS power supply (9~36V DC-in)
8 * PoE ports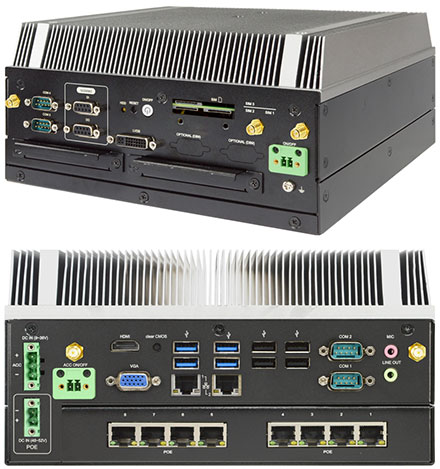 Jetway HBFEF752-7100-B (Intel Kabylake)
Jetway HBFEF752W-7100-B (Intel Kabylake)